On February 24, 2021
American Seed Trade Association, ASTA, Florida Fruit & Vegetable Association, Innovation, Media Tour, plant breeding, Plant Breeding Innovation, Seed Industry, University of Florida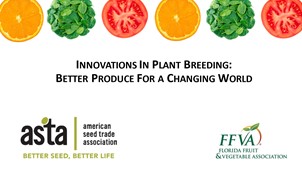 On February 10 & 11, ASTA, in collaboration with the Florida Fruit & Vegetable Association, the University of Florida and several ASTA member companies with a presence in Florida, hosted a virtual media tour focused on innovations in plant breeding in the produce industry. Originally planned as an in-person tour in Florida in conjunction with ASTA's Vegetable & Flower Seed Conference, the tour pivoted to a virtual event along with the conference. The two-day event provided insights into the breeding challenges and opportunities today, along with an outlook for the innovations of tomorrow, as we face evolving consumer demands, new pest and disease pressures, a changing climate, and a drive toward more sustainable production. The tour was well attended by garden writers, and members of the ag, science and regional media. The seed crop focuses for the tour were tomatoes, gherkins, melons, blueberries, citrus and more.
On behalf of ASTA, we want to say a very special thanks to Meyocks for generously volunteering their time and expertise over the past few months to bring this event to life! Recordings from the full program are available on ASTA's YouTube channel: Feb. 10; Feb. 11.