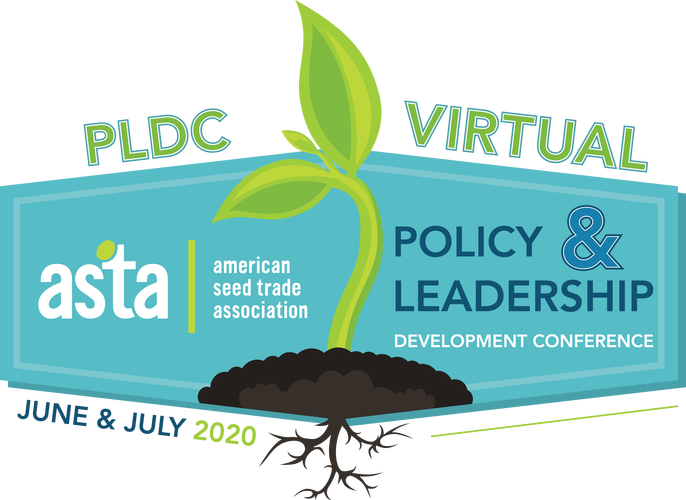 ASTA's first virtual conference has been setting new attendance records for an ASTA June event! Named after the live ASTA event typically held in June, the Policy & Leadership Development Conference (PLDC), PLDC Virtual, continues the mission of offering a forum for ASTA members to build leadership skills and discuss the critical policy issues facing the seed industry.
PLDC Virtual kicked off with two sessions providing in-depth analyses of the economic outlook for field crops and produce and has already set an eight-year record of participants in its June programming. ASTA will carry this virtual series forward with today's an historic event on June 16: the first virtual Annual Meeting of its members in its 137-year history.
Registration for PLDC Virtual is free to ASTA members and sessions continue until the end of July, including additional topics such as Moving Seed in an Uncertain World, Innovation & Policy, and the ASTA Annual Meeting on June 16.
Check out the conference website for links to a series of strategic issue sessions, in addition to an entire archive of ASTA leadership development sessions, curated in one place for the first time from its Leadership, Education and Development (LEAD) Committee, the former FuSE Subcommittee and prior PLDC live sessions for early-career seed industry professionals to continue to build their career skills.
"The accessibility of the virtual format affords a whole new group of ASTA members the chance to participate in our free sessions this summer and get to know this new event, which was transformed from our former Annual Convention that had been held every year since 1883," says Jennifer Crouse, Senior Director of Meetings & Services at ASTA. "This year is only the second year in history that our live June event has been cancelled, the other being in 1945 during World War II. We can't wait to get back together again in D.C. next year, but for now, we are thrilled to find that today's technology not only allows us to continue to provide valuable programming for our members during a pandemic, but also helps to familiarize a broader range of our members with this important content."