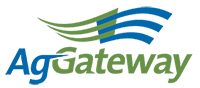 As part of its Mid-Year Meeting in Altoona, Iowa, June 12-15, AgGateway is hosting a half-day Ag Retail eConnectivity Seminar designed to introduce the many benefits of electronic connectivity to agricultural retailers and service providers. The session will be held Tuesday, June 13, from 10:00 a.m. to 3:00 p.m. Ag retailers are encouraged to register now for this one-time event.
See the press release  for more information. To register, go to the "Events" section of www.AgGateway.org and click on registration for the Mid-Year Meeting (participants may register for the full Mid-Year Meeting, or for the Ag Retail Seminar only).
AgGateway is a non-profit consortium of businesses serving the agriculture industry which helps member companies improve their profitability and productivity by promoting, enabling and expanding eBusiness in agriculture.