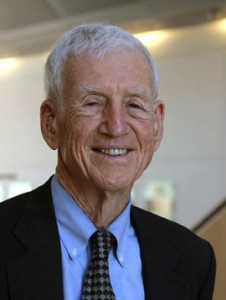 It is with great sadness that we announce the passing of William Henry Danforth, M.D. on September 16, 2020.
Dr. Danforth studied to be a cardiologist at Harvard University, where he met his wife Elizabeth "Ibby." In 1998, he founded the Donald Danforth Plant Science Center with the mission to improve human condition through plant science and served as its chairman through 2013.
In 2003-2004, Danforth chaired the legislatively mandated USDA Research, Education and Economics Task Force to review agricultural research that called for a national institute dedicated to food and agriculture science. He testified before the Senate Agriculture Committee in 2007 to urge the formation of a national institute for agricultural research in the 2008 Farm Bill, which resulted in the formation of USDA's National Institute of Food and Agriculture (NIFA) in 2009. He later founded SoAR to advocate for increased funding of competitive grants for cutting-edge agricultural research through USDA's NIFA.
Danforth is survived by his children, Maebelle Anne Danforth, Elizabeth G. Danforth, David Danforth; a brother, former U.S. Senator John C. Danforth; 13 grandchildren and eight great-grandchildren. Read his obituary here.