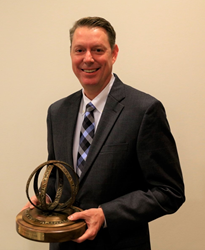 Twenty-seventeen Borlaug CAST Communication Award (BCCA) winner Jayson Lusk was recently honored at a World Food Prize side event. During his remarks at the October 18 ceremony, Dr. Lusk, a distinguished professor and head of the Department of Agricultural Economics at Purdue University, discussed the future of food.
According to CAST, Dr. Lusk is a "consummate communicator who promotes agricultural science and technology in the public arena using multiple forms of media to advocate for science."
This year's BCCA award was sponsored by Syngenta. Visit the CAST website at www.cast-science.org for more information, including nomination forms for the 2018 Borlaug CAST Communication Award. CAST, through its network of experts, assembles, interprets, and communicates credible, balanced, science-based information policymakers, the media, the private sector, and the public.