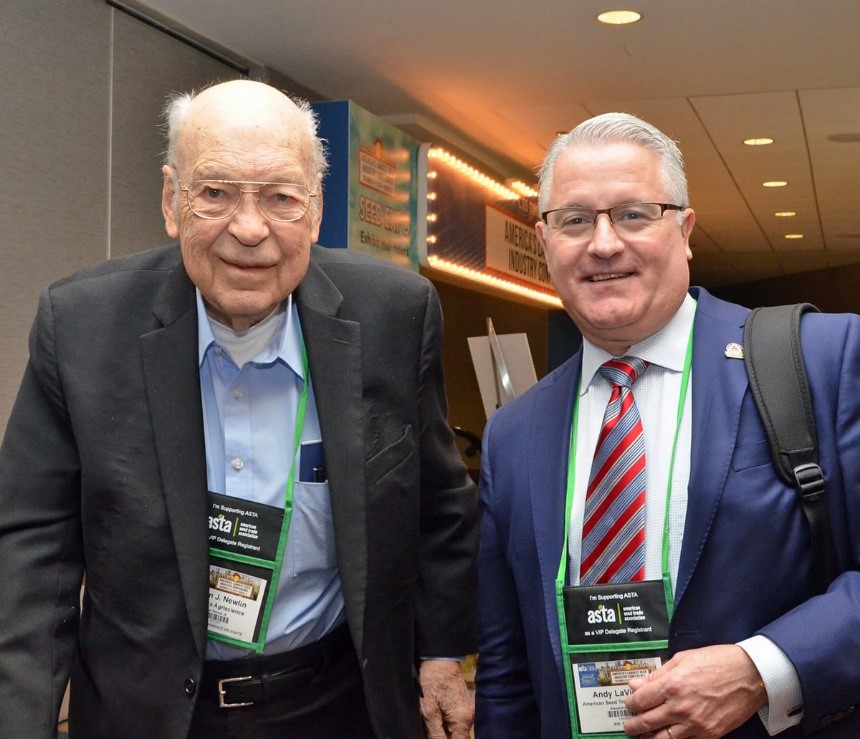 The seed industry lost a true legend and friend with the recent passing of Dr. Owen J. Newlin of Des Moines, IA. Dr. Newlin, who was actively involved in ASTA for more than 50 years, passed on July 12 at the age of 92.
"The leadership and forward thinking that was the basis of Owen's participation in ASTA's Board and grain industry activities was truly monumental," said ASTA President & CEO Andy LaVigne. "The leadership of ASTA cannot put into words the impact Owen had on the association and our position on the U.S. and global levels. Our thoughts and prayers are with D.J. and the Newlin family. Owen will truly be missed."
Newlin was the longest-running ASTA past president who remained an active participant on the ASTA Board of Directors as a lifetime honorary member and chair of the Subcommittee for Strategic and Allied Partnerships. In 2016, ASTA honored him with its inaugural Lifetime Industry Achievement Award – thereafter known as the Owen J. Newlin Lifetime Seed Industry Achievement Award – which recognizes exceptional professionals whose career contributions to the seed industry span more than 50 years.
Read more about Dr. Newlin's extraordinary life of service here.