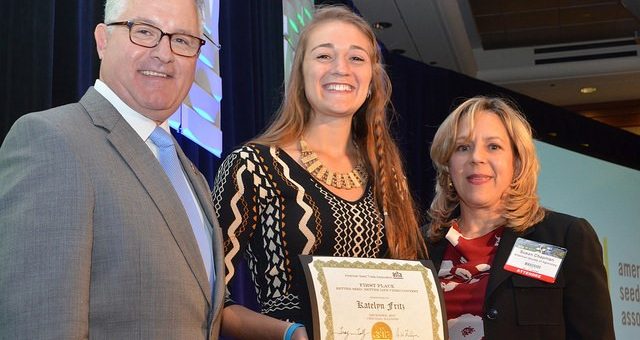 During the Opening General Session of CSS 2017 & Seed Expo, ASTA announced the first-place winner of its "Better Seed, Better Life" student video contest. Sponsored by ASTA, the National Association of Plant Breeders (NAPB), and the American Society of Agronomy, Crop Science Society of America and Soil Science Society of America (Tri-Societies), the contest asked graduate and undergraduate students focusing on plant-science disciplines to submit videos bringing plant breeding innovation to life. The videos were judged by a panel of volunteers from ASTA member companies.
The winning video was produced by Katelyn Fritz of Iowa State University. Katelyn is a junior double majoring in Agronomy and Global Resource Systems with focus areas of Plant Breeding and Biotechnology as well as Central America. Currently, she is on an eight-month internship in Guatemala with a small NGO named Semilla Nueva that works to sustainably overcome chronic malnutrition in Guatemala through biofortified corn. Her role there is an Agricultural Research Fellow and she is working to set up the online breeding database, as well as create a laboratory for zinc and tryptophan detection of the lines to ensure that they meet Quality Protein Maize standards. After completing her undergraduate degree, she hopes to attend graduate school to focus on biofortification of staple crops.
The second place prize was awarded to Stephanie Karhoff. Stephanie is a Ph.D. candidate in Translational Plant Sciences at Ohio State University. Third place was awarded to David Hammett from Fort Hays State University. David has been working in plant breeding for three years and plans to study agriculture with a major in Ag Education.